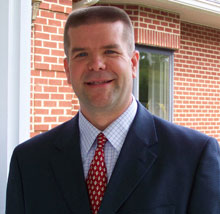 My name is Mark Agan.
I am the youngest son of Champ & Dianne Agan. My dad pastored most of my life, so I grew up as a PK (and proud of it). The Lord called me to preach when I was fourteen years old, and ever since then, I have counted it a privilege to stand and preach God's Word.
After High School, I attended Baptist University of America for one year, followed by Tabernacle Baptist Bible College in Greenville, South Carolina where Dr. Harold Sightler pastored at the time.
I married the love of my life, Beth, in the winter of 1989. God gave me a precious jewel when he gave me Beth. Not only has she been a great wife to me and a great mother to our two sons, but she has also been my right arm in the ministry.
In 2000, after having pastored my first church, the Lord led my family to plant an Independent Baptist church in Switzerland, Florida. The Lord blessed that ministry, and we saw many saved. It was while pastoring there that I was able to finish my education and earn a Doctorate of Theology (Th.D) degree from Slidell Baptist Seminary. Then, in 2008, we moved to Siler City, North Carolina where I have pastored Community Baptist Church, one of the greatest churches around!
Also, in December of 2016, the Lord opened up the door for me to become the Chaplain of the Chatham County Sheriff's Office which has given me an even greater opportunity to reach people in our community.
So, who am I? I am a man who has been blessed beyond measure! I am a man who has everything he needs and more than he deserves! But most of all, I am a man who has the assurance that when I die, I will spend eternity in Heaven because I have put my faith and trust in the Lord Jesus Christ as my Savior.